What are the most important things to know before you and your family head out on the road with your new teardrop trailer? Here are some practical tips to ensure an unforgettable experience.
Size matters, and the smaller the better
Many caravans require a bigger family car, not to mention a lot of fuel spent on towing. Some might prevent investing in a brand new car just to tow a big caravan, but the result is usually very slow speed and even more fuel expenses. But no need to worry - there is a solution to all of these problems. A teardrop trailer, or mini caravan as many prefer to call it, makes a hassle-free holiday even easier and cheaper. Teardrop trailers are lightweight and compact in size. This allows any vehicle with a hitch on to tow it. No need for an upgrade in your family car, and no need for a huge fuel budget, because a teardrop trailer is extremely cost-effective to tow. The aerodynamic teardrop shape ensures that the wind flows better and doesn't add unnecessary weight while driving. And the materials it consists of are naturally lightweight. To put this statement into numbers, a caravan with 2-4 beds normally weighs around 1200 kg, while the maximum weight of a typical teardrop trailer is around 750 kg.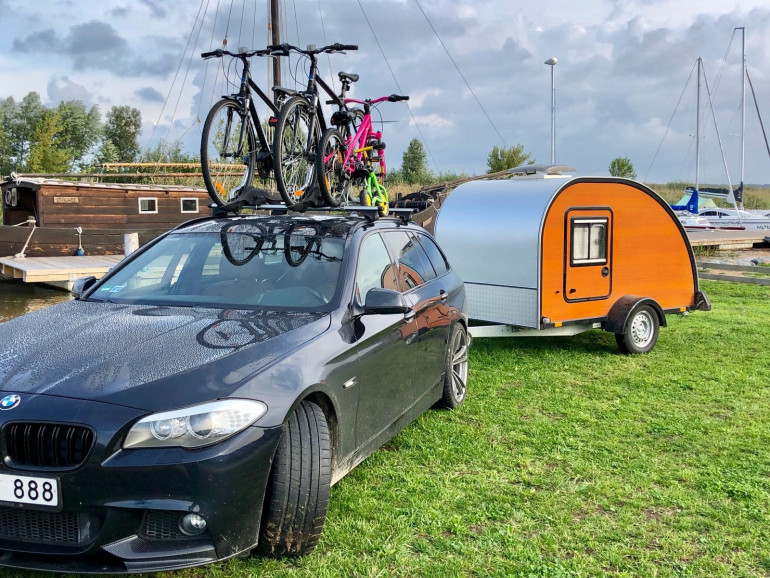 Loading and unloading
But how much can you actually load your teardrop trailer when the weight is so low - especially if you have a large family? Well, as the lightweight trailer is compact in size, it makes it close to impossible to over-pack - you only pack what you need. All of our teardrop trailers ensure smart storage solutions to pack in an efficient and practical manner. By choosing to bring less stuff, both packing and unpacking will also be a breeze. However, if you need extra storage space, we have many clever upgrades for the trailer models we offer. For instance, your storage space can be extended with add-on options like a roof rack or storage boxes.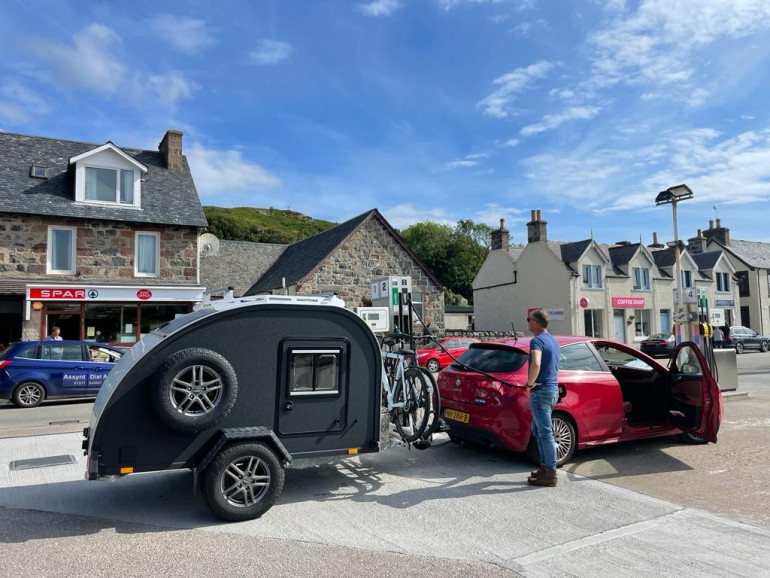 Convenient weight distribution
When you're getting ready for the family holiday, bear in mind that around 60% of the weight should be loaded in the front half of your teardrop trailer. Always load heavier items in front and pack lighter items at the back. Make sure that all the weight is distributed evenly so that you can tow your teardrop trailer safely until you reach your desired destination.
Endless possibilities
Although the teardrop shape makes the mini caravan look quite small, all corners are used efficiently to ensure maximum comfort. For instance, the bedspace is big enough for  two adults or a couple with one smaller child, to sleep very comfortable. However, the  possibilities are endless: how about setting up a tent for the children outside the teardrop camper, or let the children have a tent on the roof of your family car? This way the adults can enjoy their private space and be assured of comfort whilst enjoying their deserved holiday.