Although some adventurers swear to camping all year round regardless of weather or season, most of us find it more comfortable during the official camping season. Spring, summer and early autumn are the perfect times to get out and about with your teardrop trailer, and packing and getting your trailer ready for the road, couldn't be easier. With a Kulba teardrop trailer you'll be facing easy storage solutions thanks to it compact size, and lower maintenance as a result of the cabin's high quality materials.
If you want to hit the road in the spur of the moment, simply just hatch your Kulba trailer onto your vehicle and you're ready for adventure! However, whilst it might be easy to be spontaneous with a teardrop trailer, we do recommend undertaking a cleaning spree two times a year. This should ideally be at the end of the season, and before you get started again after a long winter. Read on to figure our how you can set up your teardrop camper maintenance routine before and after every season.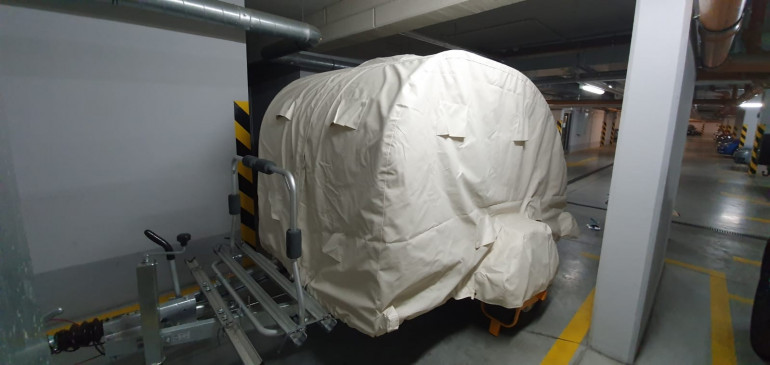 Clean, both inside and outside
Let's talk about the basics. A clean trailer, inside and outside, is a happy trailer. By going over all the corners you'll be able to discover any damage or emerging problems that may have developed. Needless to say, you should also inspect and clean up your kitchen. Make sure to check your cooking gear, clean stovetop burners or anything else your kitchen is equipped with. Evaluate all your cooking gear to make sure it is fully functional and ready for your next adventure.
Inspect the awnings
If you've added on the option of side awnings you'll have a refuge of shade wherever you go camping with your teardrop trailer. Before and after each season you should inspect the awnings and give them a complete wash. Let them dry in the sun.
All the seams

After you've cleaned your teardrop trailer completely, it's time to inspect all the seams, seals and the roof. Be sure that nothing is deteriorating, or treat it immediately before it becomes a larger issue.
The wheels

Always remember to check the tire pressure before starting a new camper season. Also keep in mind that it's good to check for uneven wear and tighten lug nuts.
Electricity
If you have installed solar panels on your teardrop trailer, you should inspect them and let them out in the sun to check that everything is working fine before the beginning of a new season. All of our teardrop campers are equipped with a power outlet for campsites, and various sockets in the kitchen and cabin. Always double check the electricity before heading off.
Ready for the season
In general, a compact teardrop trailer requires minimal maintenance that needs to be done once or twice per year. Being the proud owner of a Kulba teardrop trailer brings on easy camping, great connection to nature and hassle-free maintenance. Make sure to go for a test drive when a new season starts: this is both to get yourself excited of what's to come, and to make sure that your teardrop trailer is fit for a long journey of exploration.