Something that you should learn more about before you head off, is weight distribution. It'll make your journey smoother, better, easier and safer.
Imagine this: your brand new teardrop trailer has been delivered. All you wanna do is to hitch it onto your car and ride off into the sunset. You've been dreaming about all the places you want to visit with your teardrop trailer for a long time now, and now the day has finally come!
But wait! There's something called weight distribution that you should learn more about before you head off. It might sound boring, especially because all you really wanted to do was to finally start living your dreams and enjoy hassle-free travels. However, trust us on this one. The importance of weight distribution is… well, important. And it'll actually make your journey smoother, better and much easier. In fact, it will promise a much better experience on the road. But that's not all! You'll also ensure the maximum life span on both your towing vehicle and your teardrop camper. So, we're not telling you this to be annoying - we simply want you to be able to live out your dream for years and years to come. And the tweak is really very simple, so please keep reading.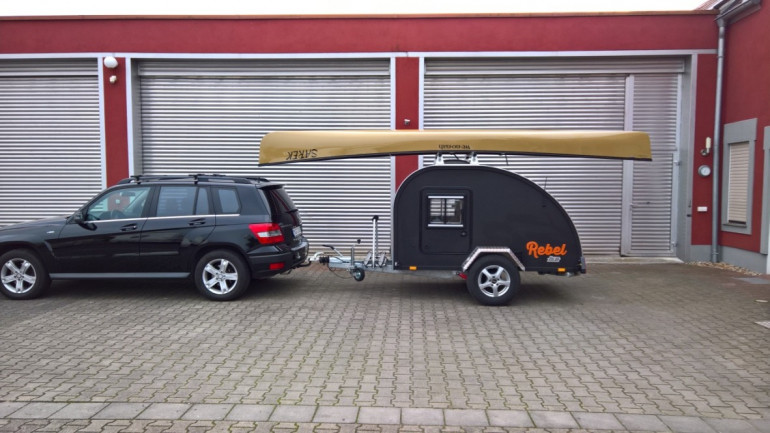 Smart solutions for packing
As you might already know, a teardrop trailer is a lightweight camper, often reffered to as a mini caravan. By choosing a teardrop trailer, you will have more flexibility and freedom. Another plus is that their minimalistic design ensures that you'll save a lot of money on fuel, as they won't exhaust your towing vehicle the same way as a regular caravan. The lightweight trailer is compact in size, which means that you'll have limited storage space. However, all corners are used efficiently to ensure that you can bring everything you need for a great getaway. It's almost impossible to overpack a teardrop trailer as a result of its size, which ensures that you'll only pack what you really, really need.
All of our teardrop trailers ensure smart storage solutions to pack in a efficient and practical manner. By choosing to bring less stuff, both packing and unpacking will be so much easier.  However, if you need extra storage space, we have many clever upgrades for the different models we offer. For instance, storage space can be extended with add-on options like a roof rack or storage boxes.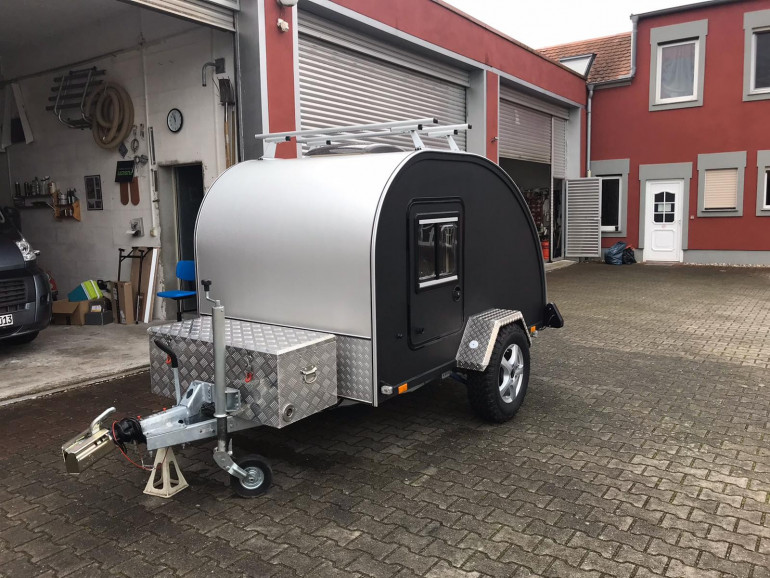 Convenient weight distribution
Now, let's head over to the weight distribution. When you're loading up your teardrop trailer, bear in mind that around 60% of the weight should be loaded in the front half. Always load heavier items in front and lighter items at the back. Make sure that all the weight is distributed properly so that you can tow your teardrop trailer without any problems.
If you fail to ensure a healthy weight distribution, there are many risks and dangers that can occur on the road. Some of these include:
loss of control (the trailer swaying from side to side),
blown tires (as a result of too much weight)
braking issues (if the weight is unevenly distributed, it can push the rear tires and cause damage to your brakes)
Now that you are aware of these dangers, you might start to fanatically wonder if you've loaded your teardrop trailer the right way. As mentioned earlier, you should distribute around 60% of the weight in the front half. With that rule of thumb, you can stop worrying.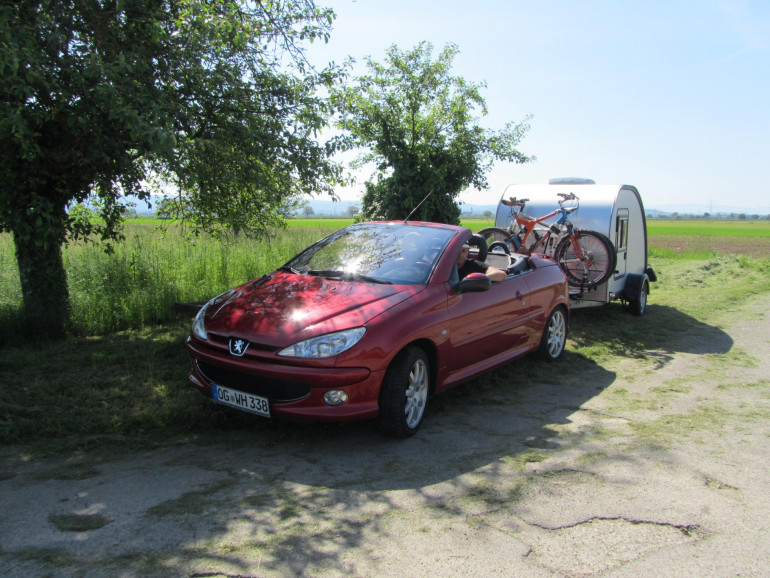 Take control on the road
Simply told, you should always use a weight distribution hitch if your trailer weight is more than 50 percent of your vehicle weight. Luckily for you, you've chosen a lightweight teardrop trailer that gives you many kilos to work with. We assure you that with a weight distribution hitch, you'll have peace of mind - AND it'll be much easier to tow your vehicle. This little gadget will help you to keep control of your vehicle and also prevent damage to your car and your trailer. A weight distribution hitch only costs a few hundred euros, which is an investment that will keep both your car and teardrop trailer safe on the road for years to come, saving you a lot of repair costs down the road.
With a weight distribution hitch in place, you won't have to stress too much about how you're loading your teardrop trailer. The top five benefits of a weight distribution hitch is the following:
Extended life of your suspension system in addition to preventing unneccessary wear and tear.
Bring on a smoother ride: no more poor balance on the road with a trailer that swings from side to side.
Saves you money: you'll save on costs due to less wear and tear, but you'll also save money on gas milage as a corrected loaded trailer will maximize fuel consumption.
Increased towing capacity, which allows you to load more weight than you normally would.
A safe ride: this is probably the most important benefit of a weight distribution hitch, and really collects all the benefits above into one.
It's safe to say that a weight distribution hitch gives you a better over-all experience and will set you up for years of hassle-free travel. This means that you'll get faster off into the sunset and can live out your dream.